Pacific Oral Surgery & Dental Implant Studio is proud to be Orange County's premier provider of the All on 4 Teeth Replacement procedure. All on 4 dental implants or Teeth in a Day is a unique procedure that allows us to restore a full arch of upper and/or lower teeth in the same day using the innovative new implant technique called All on 4 from Nobel Biocare. If you are tired of wearing your denture or if your denture is loose and ill fitting the All on 4 or Teeth in a Day procedure will help you get rid of your denture and provide you with permanent screwed in teeth.

Qualified All on 4 patients receive four Dental Implants and a full set of new replacement teeth per arch on the same day of treatment. The All on 4 implants can be used the same day instead of waiting months to heal, thus allowing patients to leave with fixed teeth on the same day instead of having to wear dentures while the implants heal.
With loss of teeth, patients will experience loss of bone, diminished chewing function and will begin to appear to age more quickly. Individuals wearing lower dentures only retain 10% of their chewing capacity. With the All on 4 technique, patients no longer wear dentures and regain up to 90% of their chewing capacity. This pioneering technique is specifically designed for individuals to re-establish their chewing function, stop bone loss and the effects of aging.
Unlike other approaches that involve more laborious and costly techniques often requiring bone grafting, sinus lifts, and eight or more implants per arch which can take up to 3 years to complete treatment, Dr. Salib uses this proven technique that involves only using four specially placed implants without the need for bone grafts & sinus lifts. Your new dentures can be completed in just one day.
The end result is a solid base of teeth that are fixed in place and are not removed. It means lower costs and reduced healing times allowing our patients to regain their original youthful smile and original function faster, more reliably. The All-on-4 technique is FDA approved and has a long history of success.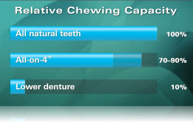 As a board certified an Oral and Maxillofacial Surgeon, Dr. Salib specializes in tooth extraction care and dental implants, ensuring that your All on 4 Implant procedure will go smoothly. Your tooth extraction and dental implant procedure will be pain free. Your tooth extraction healing time will vary depending on how much infection is currently present. However, Dr. Salib's minimally invasive approach will ensure a speedy and comfortable recovery for your Teeth in a Day. Our friendly staff at Pacific Oral Surgery & Dental Implant Studio will go over Teeth in a Day aftercare instructions to ensure you do NOT develop a dry socket or infection.
Many patients often ask about All on 4 Teeth in a Day cost. Dr. Salib's staff will kindly assist you to maximize your insurance benefits and will work with you to help facilitate your needs. We also offer sedation dentistry including IV Sedation and general anesthesia to ensure your comfort. Dr. Nader Salib is only one of a few select few surgeons in the United States trained in this novel procedure and is a leader in delivering Nobel Biocare's All on 4 procedure for restoring a full arch of upper and/or lower teeth. He is the clear choice for your dental implant needs. He has performed more Teeth in a Day procedures than any other surgeon in Orange County.
We look forward to meeting with you and are happy to offer one of the most exciting options in all of dentistry. We invite you to call our office and come for a Teeth in a Day & All on 4. Our friendly staff at Pacific Oral Surgery & Dental Implant Studio will gladly assist you. We are conveniently located in Mission Viejo on the Mission Medical Center campus. Your tooth extraction needs will be met by our oral surgery office proudly serving patients throughout the United States and Internationally.
Teeth in a Day Implant Education